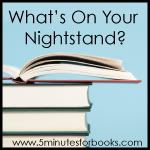 I'm so happy to be participating in the first monthly "What's on Your Nightstand?" If you'd like to join in (either by linking up your own post, or just reading others' posts), click on over
HERE
.
I have to say that I'm a bit of an erratic reader. I am often reading more than one book at a time, and often leave perfectly good books unfinished in order to dip into another one. The deadlines that have been imposed upon me by my online reviewing gig(s) have made this worse.
So--I rounded up the books from my "nightstand" so that I could share them with you (in reality they were in a bookbag, on a bookshelf that I reserve for my to-be-reads, on another bookshelf in my bedroom where I park books that I hope to get to very soon, and in a magazine rack that I recently put beside my bed to avoid irritating my husband with the piles of books beside my bed, on the chest beside my bed and under my bed). For me, that means sharing what's in progress, and those juicy books enticing me to be read very very soon. You might deal with books in a normal one- or two-at-a-time fashion, and that's fine, too.
The Condition
by Jennifer Haigh
I'm over halfway through this book now (it's a
thick book
, weighing in at 400 pages), and I'm really enjoying it. It's a well-written, character-driven, literary type novel. I haven't read that type of book in a while, so I'm really enjoying it. If you like books that give you a peek into the reality of family dynamics, you might want to check it out. Gwen is a 34-year-old adult who lives with Turner's Syndrome, which causes her to look a bit like an 11-year-old boy. The stress of her diagnosis precipitates her parents divorce. Her parents are dealing with the reality that they are getting older. Other "real" themes include ADD, tension and temptation in marriage, homosexuality, loneliness, and self-discovery. It's not depressing, but it is real. It's the kind of book that some people love, and others avoid. I don't like this kind of novel to be the only thing on my nightstand, but I am enjoying this one.
The Mercy Rule
by Perri Klass
As I mentioned in my
Bloggy Giveaways post
yesterday (and if you click over, you can enter to win it and $100 worth of other stuff), I was drawn to this book because of the author. I read a memoir she wrote with her mother,
Every Mother is a Daughter
, and absolutely fell in love. When I saw that she had a new book out, I knew that I wanted to review it. In my weird reading fashion, I have read the first chapter of this one, and will finish it after I finish The Condition. A full review will be posted on
5 Minutes for Books
.
Slummy Mummy
by Fiona Neill
I'm halfway through this one, too. It's a review copy that was described to me as "a laugh-out-loud book on modern motherhood" and being "in the style of Bridget Jones." It is clever, and I have chuckled, but I am finding it to be much more insightful and thought-provoking than that blurb promised. A full review will be posted on
5 Minutes for Books
.
Harry Potter #5
by J.K. Rowling
This book is beyond a "
thick book
," so I'm not sure if I can devote the time needed to it after reading two other thick books this month. However, Amanda is wild about Harry. This summer she wanted to read the Harry Potter books, and I told her that she could, but I had to read them first to make sure that they were still appropriate for her, and that if I thought they weren't, I could cut her off at any time and make her wait a year or two. She's read through number three, and so I need to get reading at some point. If the opportunity presents itself, I will dig into this one (I actually
have
read the first 100 pages of it, and my bookmark looks like I just dipped in. I think I put it aside because I couldn't handle a thick book at the time and the early setting in that old house didn't draw me in--but I have heard it gets better, and I think I'm right past that, although it's been a long while since I read that, so I might have to start over).

The Shack
by William P. Young
A non-booky friend of mine told me, "I just read the best book. I'm sure you've heard of it, because you're up on these things. It's called The Shack." I actually hadn't heard of it at all, so she said, "Promise me you'll read it." I looked into it, and saw that it's garnered a lot of attention (and some controversy). So, it's waiting to be tackled. A full review will be posted on
5 Minutes for Books
.

The Dangerous Days of Daniel X
by James Patterson
I received an email asking me if I wanted to review this one. I was intrigued because it's written by James Patterson, but specifically because it is meant to conquer the problem of boys not reading because it is "boring," "there are other activities that they like better," and they can't "get into the stories." Patterson has a ten-year-old son and is determined to give boys what they will like. From what I've read of the plot, I don't think that it would be appropriate content for a ten-year-old, but I'm willing to find out. I love his motive. A full review will be posted on
5 Minutes for Books
.
Listening:
To add to the confusion, I love having an audiobook on my ipod. It's the perfect thing to keep me busy while I'm supposed to be doing chores, and I can "read" and extra book or two each month this way.
Merle's Door
by Ted Kerasote
I'm halfway through this book, which I can only describe as a love story between a man and his dog. Reading it has made me think about my dog more and understand her more, as he shares his research and opinions on what is best for a dog, and digs into the relationship between dogs and humans. He does include a fair amount of evolutionary theory, but I just ignore that, and it doesn't bother me. If you are a dog lover with affection or tolerance for people who think that dogs are like people in their thoughts and emotions, you might enjoy this.
If you like audiobooks, audible.com is having a summer "
Paperback sale
" which ends TODAY. That's where I got this book, and the book that is on deck,
My Sister's Keeper
by Jodi Picoult--both for under $9 (and one more--at 1/3 to 1/2 off, I could not resist).