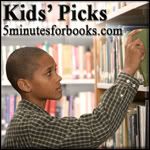 We are still all absorbed in summer reading. Yay! Here's what my kids have picked for the month. Be sure to read
other recommendations over at 5 Minutes for Books.
Amanda's (12 1/2) been revisiting some of her old favorites, including Harry Potter, as well as finishing up
the Clique series
that I mentioned in last month's post.
With my emerging bookworm Kyle (age 7), every discovery is a new one.
Last month
I asked about some series recommendations, and we actually found some he likes:
The brand new My Weirder School series from Dan Gutman (linked to my review), that has convinced him to go back and read some of the other series about these school kids.
We stumbled upon the Roscoe Riley Rules series in the library at the end of last month. There are 7 books in all, and Kyle zipped through 4 of them. He's taken a little bit of a break, but he's enjoyed those. Amanda read one in the car one day when she ran out of books, and she gave it her seal of approval as well.

Kyle says they are funny.

Amanda says they remind her of Junie B. Jones, because he's always in trouble, but she said they didn't seem disrespectful like those are.
I've reviewed a LOT of kids' books over at 5 Minutes for Books this month. Check them out for more summer reading ideas.
For young teens and older tweens:
For independent readers (7 - 10):
Picture books: