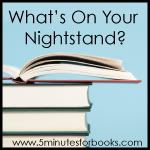 This blog started off as a sort of general blog about my thoughts and life. I was trying to get into the habit of writing, and I think I did. Blogging was different back in 2006. It was smaller. It was more about writing and connecting and less about business, so I connected. I connected with people about books and tips that "worked for me," and faith, and all sorts of topics. Was that better than what I do now? No. I needed it then, but I don't think I'd have the energy for it today.
All of that is to say that one of things I did back in the day was have a little
Read To Me
challenge. It was for me as much as anyone, though I did want to encourage others to read to their children as well, especially once they were reading on their own.
I recently wrote
at 5 Minutes for Books
about a similar initiative that Scholastic is undertaking, challenging families to make a new habit by
reading for 20 minutes for 20 days
. I still read with Amanda, my 15 1/2 year old, but with her schedule, there's no way that we'll read for 20 minutes a day. But I can commit to read with Kyle, my son who is almost 10, each day, and to continue to make the effort to read with Amanda.
If you don't make it a habit to read with your older children, I encourage you to do so. It is something that is a treasure to me and to my kids.
So for this month's
What's on Your Nightstand
, I'm going to focus on what I'm going to read with them.
Kyle and I have started Jarrett J. Krosoczka's
Platypus Police Squad: The Ostrich Conspiracy
over the weekend. If we really do read every day, it won't take us 20 days to read it, so I need to be ready with our next selection. He's been reading Lemony Snicket's
A Series of Unfortunate Events
. Amanda and I read the first two or three of them together, and I enjoyed them, so I'm thinking that I might jump in and read the next one with him. I think he's on 8 or 9, but he can fill me in.
Amanda and I have started Rick Riordan's
The Lightning Thief
, because it's probably her all-time favorite series, Kyle fell in love with it last summer, and they still can't believe that I haven't read it. We are maybe 20% into it right now, so though we won't be reading every day, I'll try to finish it this month.
Do you have any suggestions for great read-alouds for me and a 10 year old boy? We tend to like funny books, and if they have a big dose of heart on top of that, it's even better.